Davidson, NC North Carolina continues to be a migration destination from other parts of the country. We are seeing families moving from the Northeast, Midwest and West Coast. Housing is still considered affordable in NC and the Charlotte Region's economy is strong as hiring continues to draw relocations. We are also seeing older family members move to the region to be closer to children and grandchildren.
Davidson is particularly attractive because of the activities and amenities the town and Davidson College offer. The Historic Downtown area is a big draw with its boutiques and restaurants and overall vibe. The continuous live music, theater, Concerts of the Green and elsewhere, Farmers Market and proximity to lake activities are large benefits. The town's large park system and greenways set it apart from other towns. Additionally Davidson's proximity to Charlotte and a major international airport means there is no limit to activities and travel. Healthcare is an important factor for many transplants and the Charlotte Region offers plenty of high quality hospitals and specialists.
While the headlines in the news paint a picture of housing nationally, we see the local market as strong with a continual shortage of listings, rising prices, and strong demand.
New listings are low but we think they will pick up as the spring progresses. More and more empty nesters would like to sell, but many have exceptionally low interest rates on their mortgages and cannot figure out where they would go if they were to sell. Development of new neighborhoods continues, but the price points of these new homes will be out of reach for many.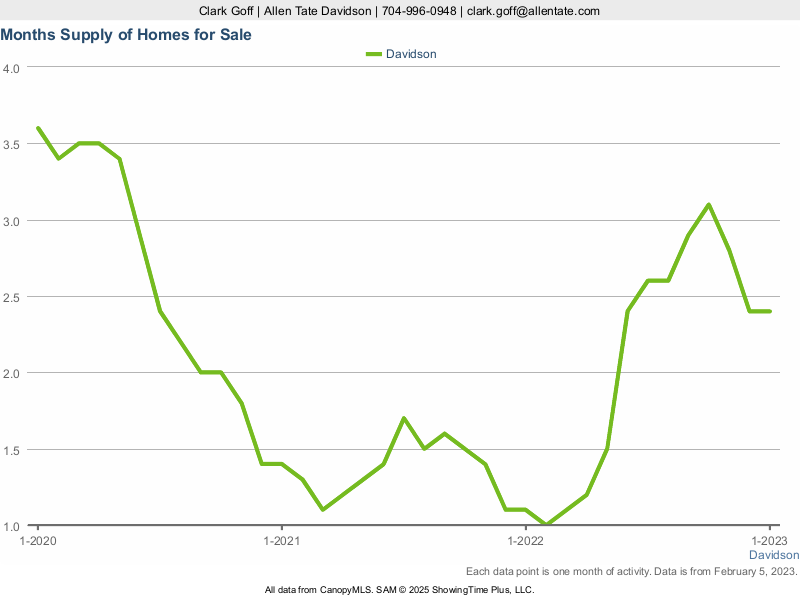 Month's supply of homes for sale continues to show that we are in a seller's market. 6 months is considered a balanced market. Buyers are starting the have a little more breathing room as the multiple offer frenzy has slowed down. As a result we are seeing due diligence fees drop and buyers be able to negotiate repairs.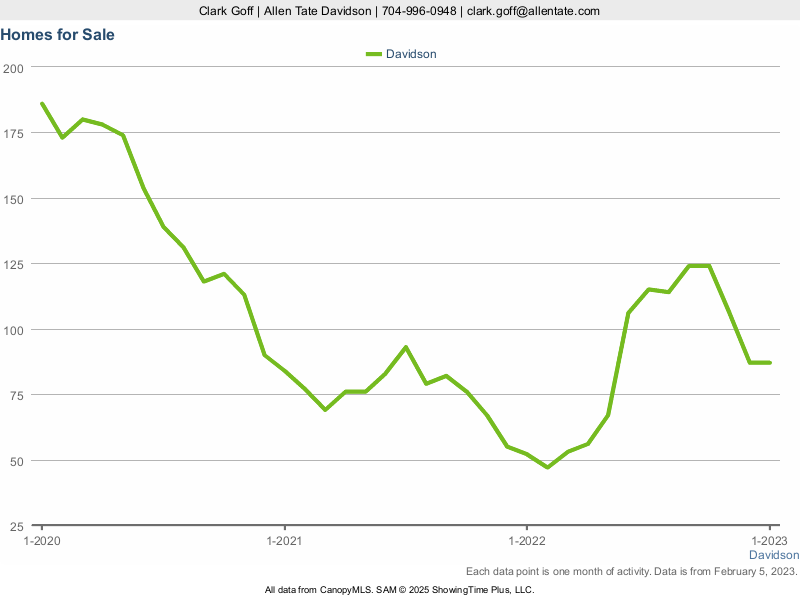 There are 49 active listings for single family homes in Davidson today. Several years ago there were 120-130 active listings available so we are still constrained by supply. 27 of these current listings are over $1 million dollars, again demonstrating a lack of affordability. Several of these listings are also proposed and to be built in the future further lowing readily available supply.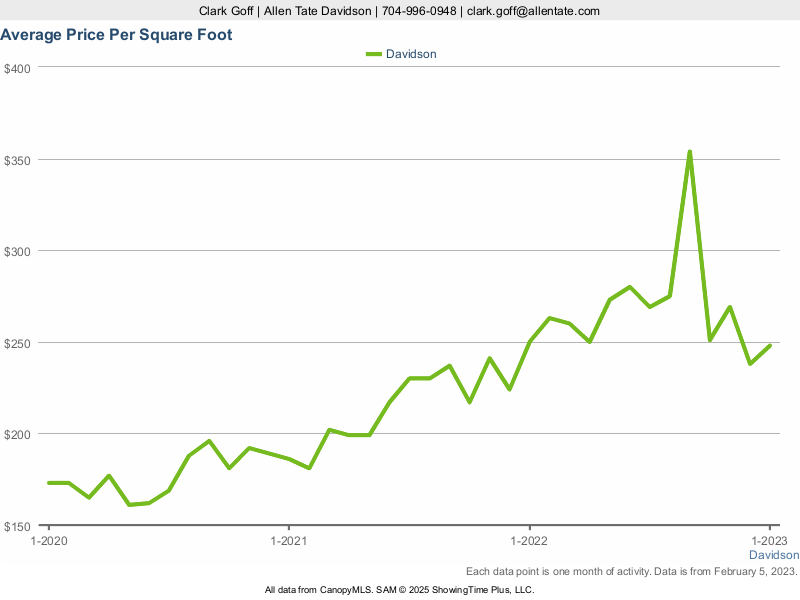 Price per square foot continues to rise overall, but is very dependent on condition of the home, neighborhood and proximity to Downtown. Many homes near Main Street have reached $400 per foot if they are updated.
Days on market is rising so sellers who expected multiple offers day one will potentially need to be more patient. Many sellers are also testing the market with high list prices which cause homes to sit.
Conclusion
Homes that are priced properly and updated are selling quickly. Davidson is very desirable and draws nationally. When I am at the Farmers Market on Saturdays I meet people from all over the country who are checking out the area. Davidson is a special place and we are lucky to live here, but be prepared for continued growth and appreciation.
2023 Real Estate Forecast – Click Here
Clark Goff is a Realtor who has lived in Davidson since 1995. 704 996-0948 https://clarkgoff.allentate.com/
Contact me to discuss the market and your properties. I have buyers looking for homes and large tracts of property.
Please follow and like us: